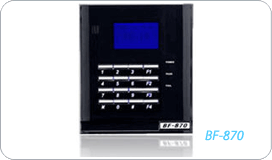 ---
BF-870
Card + PIN Access Control & Time Attendance
Web based Management
20,000Users/ 65,000 Event records
Muliti doors controller up to 9 doors
Anti passback
Dual Door Interlock
EM Card/Mirfare
---
BF-870 is a RFID identification based controller for Proximity card. It is always used to manage entrance security, work place time attendance, overtime working verification and any other situation/event for the authorized personnel's presence.
It can either work standalone without connecting to the PC or be integrated with the PC via built-in RS-232/485 or RJ-45 port.
When working standalone, BF-870 is only a general access control system to be connected with push button, RFID reader and electronic lock for access control of in/out. Besides, it is equipped with auxiliary contacts for security alarm …etc.
As to Ethernet/Internet applications, it offers Mater and Slave function for Multi-Door Control by dominating other BF-870(s). Meanwhile, it may be accompanied with WEB browser to manage every area of time attendance respectively.
Site Security and Access Control , Time and Attendance, Elevator Control, Gate Control,Traffic ArmControl
Support POE.

Master/Slave Function.

On-line Viewing Door Status via Web Browser.

Double Badge Control, Dual Door Interlocking.

Multi-door Control Up to 8 Doors (16 External Readers).

Optical-based Technology, Low Power Consumption.

Audible Indicators, LCD On-screen Menus, Simple Enrollment Process.

Stand Alone or Networking System.

2 relay output, one for door lock, the other for ringing bell.

Elevator Control Up to 9 Lifts, 128 Floors / Lift (BF-333 Required).

Built-in http Server, Can Use Web Browser to Make System Management.

Selectable Time Zone for Fp + Pin / Card + Pin / Lock Release / Exit Button.

Anti Pass Back (No Tolerance / Period Timer), Offline with Un-limited Level, No Need Online Software Support.

Support 100 Holidays, Internet Time Server, 40 Sets Function Key Setting, 128 Departments, 128 Designations, 255 Time Sets, 255 Time Zones, 200 Groups.
Verification option: Card, Card+Pin, Pin

Verification Time: Less Than 1.0 sec.

Registration Time: Less Than 2.0 sec.

Capacity: Card Capacity is 20,000 Users (Extendable 50,000).

Log Data: 65,000 Event

Relay output: Door lock x1, Ring bell x 1

Communication interface:
RS-485 → External Reader & Relay Box (BF-20)
RS-232 → Dial-up Modem or Mini Printer
TCP/IP → PC
Communication Speed: 10/100M, Auto Crossing.

Card format: 125 KHz (EM/TM); 13.56 MHz (Mifare)

Reading range: 10 ~ 15cm (EM/TM), 5 ~ 7cm (Mifare)

Keypad: 10 Number Key + 6 Function Key.

Display: 128 X 64 Dots LCD, 3 LED.

Operating Temperature: 0˚C ~ 65˚C

Operating Humidity: 0% ~ 95% RH.

Power: DC 9 ~ 24V, 1A.

Weight: 385g.

Dimensions: 140 x 156 x 50 mm.
Product Type
Model

Type

Optional 1

Optional 2

BF-870

E: EM

V: Voice

P: POE

M: Mifare
X: EM+Mifare
H: HID
How to choose a model ? For example: BF-870-E, BF-870-M-V or BF-870-E-P, and so on.
Configurations